9 Best Teas for Energy
What are the best teas for energy?
Black Tea

Pu-erh Tea

Bacopa Monnieri Tea

Matcha Tea

Yerba Mate

Ginger Tea

Peppermint Tea

Masala Chai

Ginseng Tea
Do you have trouble waking up in the morning? Need a drink to help you power through a long day at work? Tea is a great beverage for you to up your energy levels, alertness, and concentration. Hearty tea blends can get you up and going, while herbal teas make for a great pick-me-up when you're feeling drowsy late in the day. Here are the best teas for energy to give you the boost you need. 
Black Tea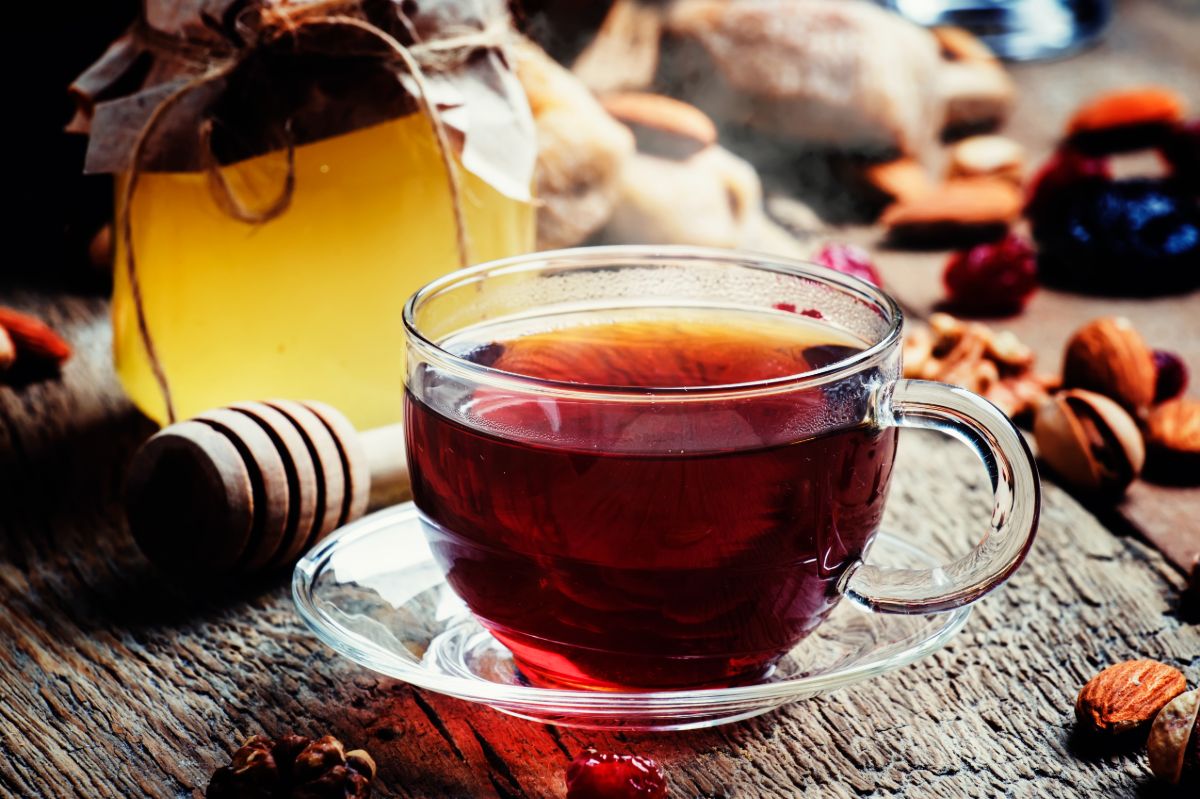 Black tea is one of the most popular alternatives to coffee out there. It's the go-to "true tea" and is known for its many health benefits. Aside from black tea's high caffeine content that will keep you going the whole day, there are about 47 milligrams of caffeine in every eight ounces of black tea! Black tea can also boost your immune system, improve blood sugar levels, and improve heart health. 
Worried about how much caffeine is in black tea? You'll be happy to know that even the densest blends only contain about half of the content found in coffee. Plus, black tea contains L-theanine, which helps balance out the negative effects caffeine can have on you. 
Pu-erh Tea
Pu-erh tea is a type of black tea that has been aged and partially fermented. This tea is a dark, rich, and decadent brew with a vivid reddish-black color reminiscent of coffee. Like black tea, Pu-erh teas are packed with caffeine and can be enjoyed with a splash of milk to create an energizing and nourishing drink.
The aging process this tea goes through reduces the tannins that are typically found in true teas, so Pu-erh blends taste very smooth. Yet, they offer a full body and satisfying finish. This is a great cup to enjoy at the start of your day!  
Bacopa Monnieri Tea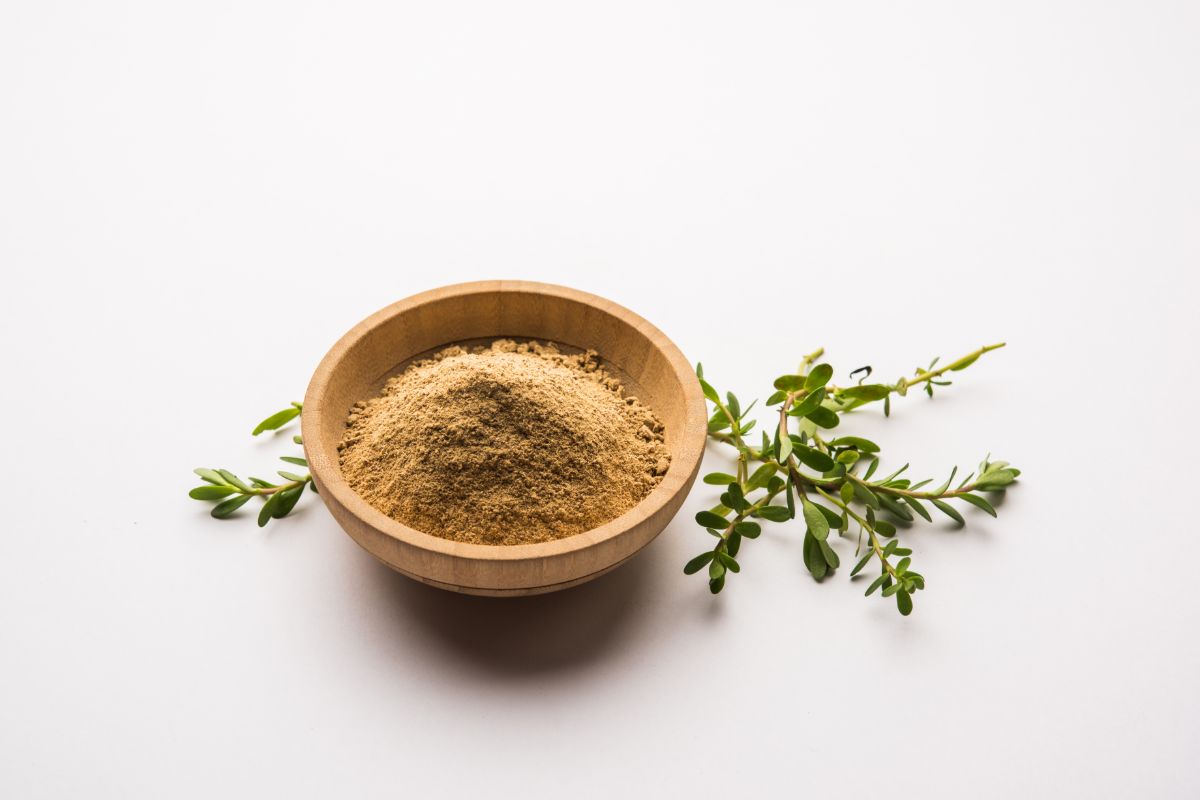 Bacopa Monnieri is one of the best herbal teas for improving energy levels. Also known as Brahmi or water hyssop, Bacopa Monnieri is a pure herbal tea, which means it's caffeine-free! This makes it a great option for those who need an energy boost, yet are caffeine sensitive.
This tea promotes energy levels by giving your body adaptogens, which are bio compounds that stimulate hormone production. Taking some Bacopa Monnieri tea will stimulate your adrenal glands, which increases blood flow. In turn, this boosts energy and helps all parts of your body, especially your brain, run more efficiently. Enjoy this tea with a dash of honey or cardamom!
Matcha Tea
A version of green tea, matcha tea is a popular light yet powerful beverage. It is loaded with tons of antioxidants, amino acids, and other nutrients your body needs to produce energy. 
One of the best benefits of drinking matcha tea is that it has less caffeine content than energy drinks or coffee. So, you can get just the right dose of caffeine. Matcha tea is a stimulating and energizing drink that can also contribute to clarity and focus.
Yerba Mate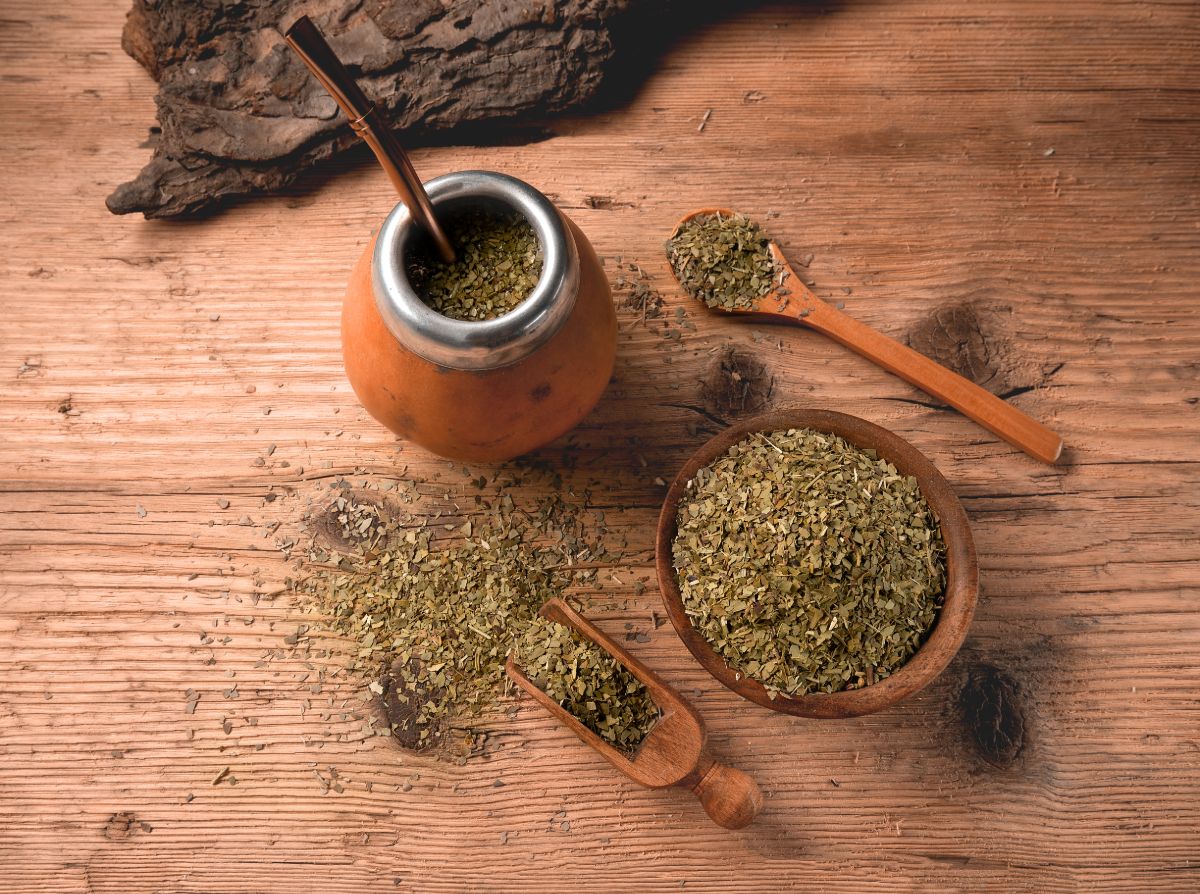 Yerba Mate is a type of herbal tea that comes from South America. It was originally made by the indigenous peoples of the said region for social gatherings. Yerba Mate features strong earthy, smoky flavors that are comparable to many specialty coffees. 
This tea is traditionally prepared with a clay gourd and drunk with a straw called "bombilla." It contains slightly more caffeine than green tea, but less than your typical cup of coffee. It also contains theobromine, which is similar to L-theanine and acts as an energy booster. Yerba Mate is so potent. Drinking it is proven to increase one's performance and endurance. 
Ginger Tea
Ginger tea is a zingy, flavorful tea that is known for its powerful anti-inflammatory effects. It is made from the roots of the ginger plant. Many people recommend drinking ginger tea for nausea and other digestive problems, but it's equally great for easing stress and tension and boosting energy. Ginger tea does this by reducing inflammation in all forms and improving one's blood flow. The improved circulation in your body can make you feel more energetic and alert. 
Ginger also stimulates the production of adrenal catecholamines. These chemicals help regulate energy consumption, meaning you'll feel awake and alert for much longer. 
Peppermint Tea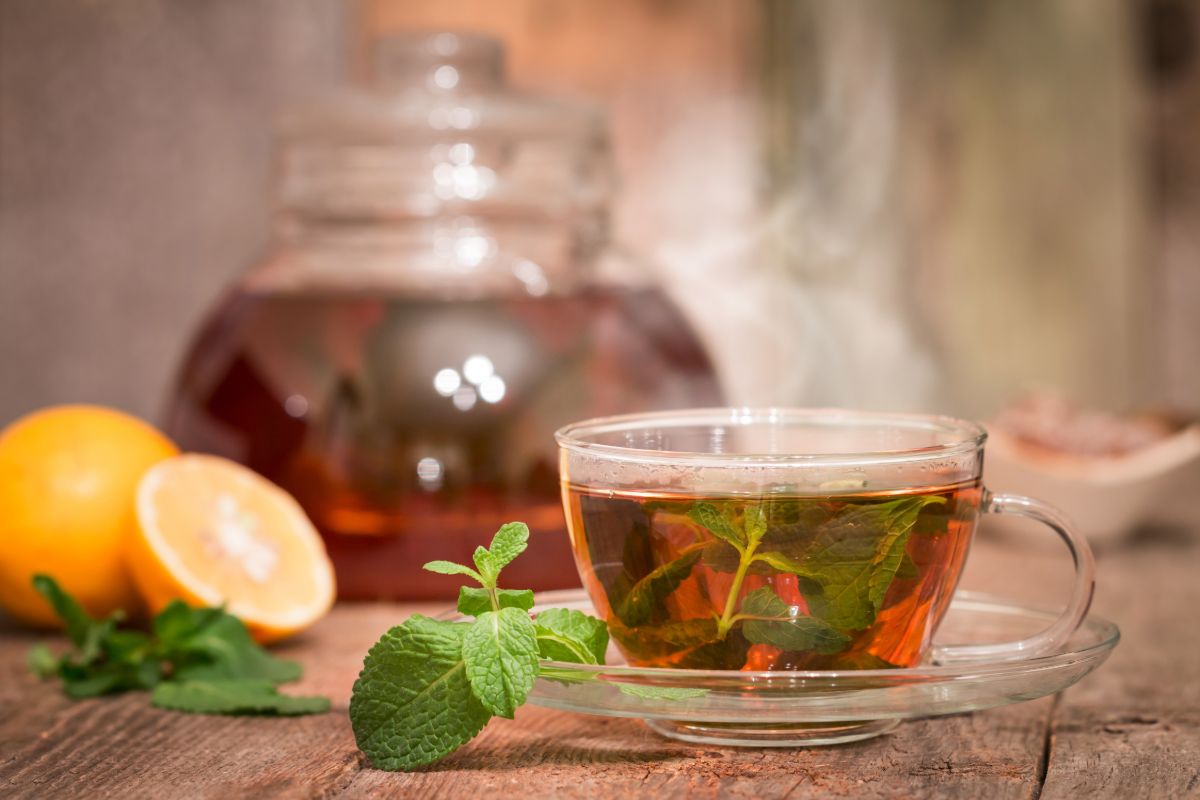 Peppermint tea is a great drink choice for someone who deals with common morning issues, such as colds or an upset stomach, on top of depleted energy levels. Peppermint tea offers a sharp yet refreshing flavor that can wake you up without relying on caffeine. 
The flavor of peppermint tea is also known to be quite soothing for the stomach. It can also clear your sinuses. In addition, peppermint tea's clean and clear taste can help improve your mood and alertness as well, which many of us may need on a rough day.
Masala Chai
Masala Chai is another tea blend made from black tea leaves. As Masala Chai contains black tea, it features many of its energy-boosting effects. What sets Masala Chai apart, however, is the presence of additional ingredients: milk and spices. 
Milk is rich in high-quality protein and amino acids, making it a nutritious ingredient. The spices used in Masala Chai also offer anti-inflammatory, antioxidant, and energy-boosting benefits. This is true even the drink is taken in small doses. Overall, Masala chai is an energizing and healthy drink to start your day with.
Ginseng Tea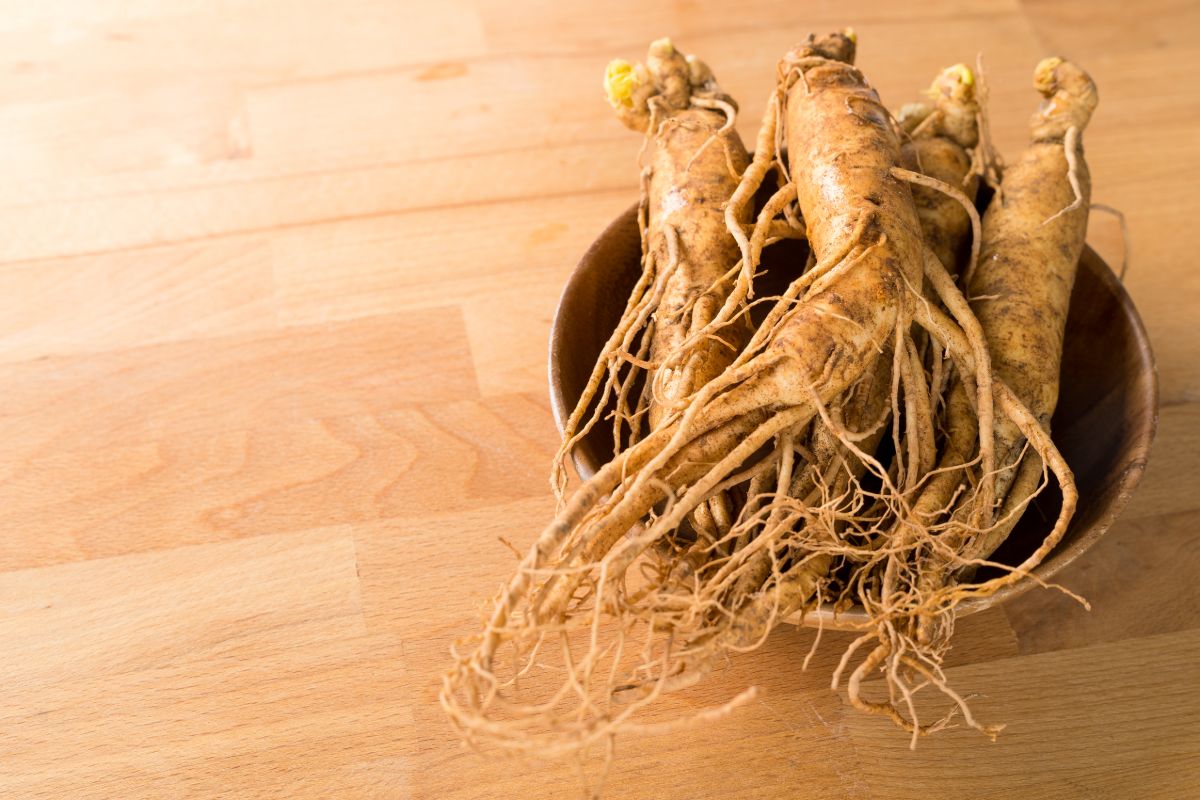 Ginseng is a popular tea in Asian medicine practice, as well as Chinese tea culture. Ginseng roots are packed with many active bio compounds that offer a host of health benefits for you, including your energy and metabolism.
Ginseng is such an invigorating drink because it is rich in antioxidants, which ease inflammation and prevent cell damage. Additionally, they contain oligopeptides, which act as an energy booster. These two compounds promote higher and more sustainable energy levels for the entire body. 
Key Takeaway
Pour yourself a cup of one of these best teas for energy — you'll find that you have more than enough energy to make it through even the most hectic day. Whether you love spicy, earthy drinks or want to stick with the simple-tasting classics, these teas are the perfect beverage to jumpstart your day.